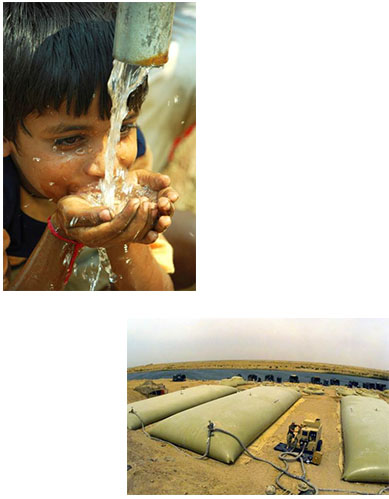 The need for pure water is one of the world's most enduring problems. An estimated 780 million people do not have access to clean water, and almost 2.5 billion lack access to adequate sanitation.
Source: United Nations Educational, Scientific and Cultural Organization
EVC offers viable tools designed to provide usable water to meet potable and non-potable needs to assist government, commercial, and non-governmental organizations in their efforts to respond to water scarcity and security. The Small Unit Water Purification System (SUWPS) is designed to provide up to 100 gallons per hour of ultra-filtered water and up to 10 gallons per hour of drinking water from the reverse osmosis system. SUWPS is a fully configurable water purification system consisting of a pre-filtration module and a reverse osmosis module.
The patented MagC is a green technology, advanced metal-air battery which uses magnesium as a fuel to generate electricity. Developed specifically for use with water purification systems, the MagC produces four times the amount of water per unit weight than any other advanced Li-ion battery technology!
Contact Us
To learn more about how our Analytics solutions have helped public and private sector organizations such as United States Air Force, United States Army, South Shore Hospital and OntarioMD translate data into actionable insight and make informed decisions, contact us today.