The Solutions You Need—When and Where You Need Them
The Enterprise Venture Corporation (EVC) Energetics Operations Team is comprised of former Explosive Ordnance Disposal (EOD) operators, scientists, and engineers with extensive technical knowledge and hands-on experience in energetics.
This multidisciplinary approach combines the best science and engineering principles with the operational experience to ensure that cutting-edge Energetics, Explosives, and EOD technologies are designed with robust capability to survive the most austere operational environment. Our technical staff has the capability to formulate, develop, and transition new and improved technologies to the warfighter and user community.
EVC's parent company, Concurrent Technologies Corporation (CTC) has developed numerous countermeasure solutions for prediction, detection, prevention, and neutralization of Energetic hazards, Improvised Explosive Devices (IEDs) and Unexploded Ordnance (UXO). Our Energetics Operations Team experts have actively collaborated with Department of Defense (DoD) research and development, and the end-user EOD community—we share a vested interest in saving lives.
Air Force EOD Support Contract – Provide EOD Flight Chief support during extreme operations tempo.
Counter Improvised Explosive Device (C-IED) Integrator Cell (CI2C) – Utilize leading IED Subject Matter Experts (SMEs) to integrate consistent and current enemy and insurgent IED techniques, tactics, procedures into IED training courses.
Reactive Information Propagation and Planning for Lifelike Exercises (RIPPLE) – Facilitate the planning and execution of large-scale live training exercises with emphasis on the cultural dimensions of the current operating environment. Also facilitate operations by supporting IED trainers conducting exercises for IED-clearing techniques.
Ballistic Gauntlet – A blast and fragmentation mitigation device to protect extremities, developed by our parent company, CTC.
Magnetic UXO Recovery System (MURS) – An advanced application of digging and recovery of UXO in a remote and safe manner.
UXO Recovery Database System (UXO-RDS) – A small Personal Digital Assistant (PDA) device for collecting UXO recovery data at the point of recovery. It captures data such as depth, location, condition, type, and nomenclature.
Retrospective Evaluation of Technology Transfer Accomplishments at Eleven Formerly Used Defense Sites (FUDS)
Robotics Wireless Radio Frequency (RF) – To address complications due to a shortage of bandwidth in the world, establish a WiFi system to make it possible for all robotics platforms to speak to each other.
Ground Robotics R&D – Research and development of advanced and improved ground robotics as essential warfighter tools.
Joint Service EOD Support
3D Visualization – A collaborative team from EVC and Polaris Sensors evaluating a 3D Visualization sensor package for use on EOD robots, while linking the system to technical data for ordnance recognition.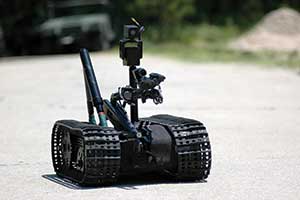 Air Force Civil Engineers – Regional Equipment Support Terminal (REST) – Consolidation of Unit Type Code (UTC) for civil engineering to regional areas throughout the world.
Air Force Readiness Support Program – Provide support to Readiness flights within the Civil Engineer community.
Blast Cab and Hull Development – Utilize innovative friction stir welding to improve and develop blast cab and blast hull fixtures for sensor and explosive testing.
Infantry Immersive Trainers (IIT) – Operate the USMC IIT support effort with solutions throughout the IIT program.
Center for Ballistic and Advanced Armor Materials (C-BAMM)
Detonator Status Indicator
Blast Data Recorder (BDR)
Munitions Identification Software demonstration using ground penetrating radar
Underwater UXO Identification and Recovery using side scan sonar methodologies for detection (Pearl Harbor, Hawaii)
Energetic and explosive forensics and characterization
EOD procedure development and training
Development and technology transfer of tools, equipment, vehicles, and procedures to meet operational needs for the Joint Services
Formal instruction for military and civilian audiences on all aspects of EOD
Dismounted EOD operations
EOD render-safe/ disposal tools and techniques
EOD munitions forensic evaluation and exploitation
Detonator testing
EOD operations in a maritime environment
IED technology evaluation and recommendation
Intelligence collection, live-fire testing, and evaluation
Munitions and Explosives of Concern (MEC) – UXO

Historical data analysis
Innovative technology
Process control
Programmatic studies and documentation
Public involvement
Underwater geophysics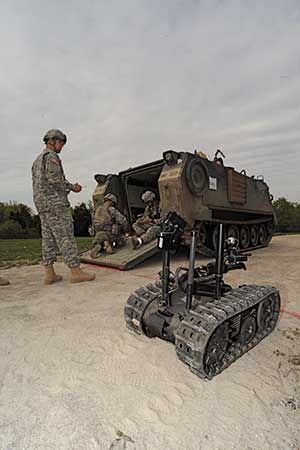 Concepts for jamming and disabling the remote triggering mechanisms of IEDs and for remote disarming and detonation
Captured enemy ammunition program, explosives application and safety, range operations, weapons training and evaluation
Technical intelligence on "first seen" ordnance and post-blast analysis
Countering Threats in the 21st Century
The EVC EO Team enlists research and development expertise, providing the warfighter with advanced capabilities in countering IEDs, Weapons of Mass Destruction (WMDs), and hazardous Energetics for today's challenges and into the future. These capabilities include:
Interfacing robotics
Training
Detection
Attribution through Weapons Technical Intelligence (WTI)
Demilitarization
Explosives Safety