Enabling you to get the job done cost effectively, efficiently, and safely—with exceptional results
EVC's products range from exceptional IT/software products to complex mine warfare systems. They also include highly-specialized tools for aviation maintenance, mock-ups, and training structures. Our products enable you to get the job done cost effectively, efficiently, and safely—with exceptional results.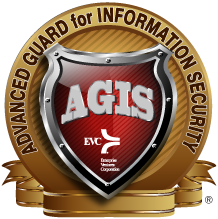 The Advanced Guard for Information Security (AGIS) is a secure, bi-directional file transfer system. The system inspects and cleans high-risk, common-use files by removing malicious, hidden, and inappropriate content while preserving the file's original format. In addition to its sophisticated cleaning and filtering capabilities, AGIS also serves as a cyber-guard. It facilitates the exchange of files across networks and domains. The system can scrutinize nearly 30 different file types including Microsoft Word, Excel, PowerPoint, Portable Document Format (PDF), imagery file formats, zipped or compressed files, and more. Additionally, AGIS can identify and provide antivirus scanning for approximately 800 unique file formats.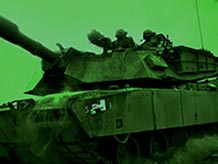 CARC-L (Low Solar Absorbing CARC) is a new and improved CARC topcoat system recently added to the military specification for CARC coatings by the U.S. Army Combat Capabilities Development Command (DEVCOM) Army Research Laboratory (ARL). ARL has granted Enterprise Ventures Corporation's CARC-L conditional qualification approval under the MIL-DTL-64159 specification. (Outdoor weathering needed)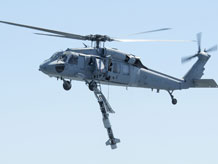 EVC is the original equipment manufacturer (OEM) of the Carriage, Stream, Tow, and Recovery System (CSTRS). CSTRS is a launch and handling system designed to support the U.S. Navy's requirement to provide an organic airborne mine countermeasure capability from an MH-60S helicopter and the littoral combat ship (LCS). Our team is responsible for all CSTRS equipment manufacturing, testing, and delivery to the U.S. Navy. We execute this work in accordance with our AS9100 production processes. Additionally, we are the sole provider of CSTRS spare parts and contractor repair services for the comprehensive CSTRS mission kit.
The CSTRS Trainer features a high-fidelity cabin mockup of the MH-60S mounted on top of a 30-foot tower, with a functional CSTRS unit. An instructor/operator station is integrated with the CSTRS to facilitate training operations and record the trainee's actions. Our unique instructor interface assembly design provides a graphical user interface to view system status and initiate and remove CSTRS "malfunctions." The Trainer has a moveable subfloor for maintenance, ground support equipment. It  includes a hydraulic power system and electrical conversion equipment, and a two-ton hoist to raise and lower the CSTRS equipment.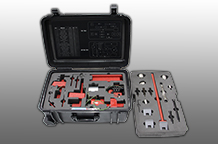 Enterprise Ventures Corporation's (EVC's) H-60 Bridge Tool Deluxe Kit is designed for the removal and installation of H-60 and S-70 aircraft forward and aft bridge assembly components. With hands-on input from H-60 maintainers, these tools were purpose-built. Our design uses materials and coatings to allow for zero maintenance-induced damage. The tools enable a significant reduction in the time required for removal and installation.
Quick Skive Removal Tools are used to remove sealants, fillers, and specialty materials fillers from fragile, scratch-prone surfaces without damaging substrates or primer coatings. The Quick Skive hand and power tools use specially-engineered. They are nonmetallic blades for use on steel, aluminum, fiberglass, composites, glass and other delicate surfaces. These tools have multiple applications for aviation and industry.
The Incremental Sampling Tool Kit contains everything you need for incremental soil sampling consistent with current U.S. EPA Method 8330B guidance. Our tool kit is solidly constructed of stainless steel. The soil sampling tool has a long handle design. This design enables you to quickly and effortlessly collect increments from a variety of soil types.